New Voices/New Work was created in 2002 to commission and develop new work for young audiences and to expand the canon of LGBTQ+ themed plays. The program celebrates and gives voice to a broad range of playwrights. NCTC has produced more than 40 world premieres over nearly four decades.
NCTC presents three world premieres in the 23-24 Season. We are honored to welcome the following astounding playwrights and directors to the NCTC stage.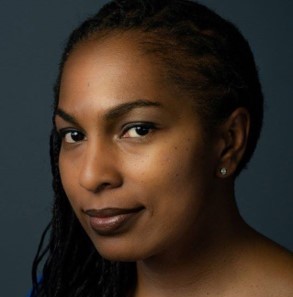 KIMBERLY RIDGEWAY
Director of the World Premiere Commission Unpacking in P'Town
Kimberly Ridgeway (she/her) is Director, Actor, Playwright, and Producer. Kimberly has directed projects locally for Altarena Playhouse, African American Shakespeare Company, Contra Costa Civic Theatre, Dragon Productions Theatre Company, Ubuntu Theatre Project, Bay Area Performing Arts Collective, Bay Area Drama Company, SF Playhouse, Town Hall Theatre, Playwrights Center of San Francisco, SF Playground, Theatre Rhinoceros, 3Girls Theatre and TheatreFirst. She has also directed projects for Three Willows Theatre (TX), National Black Theatre (NY), and Spokane Civic Theatre (WA). Kimberly wrote, produced and directed the full-length stage plays Prospect Place, Heavy Burdens, No More Secrets, The Confession, The Gigolo Chronicles, and The Drowning Pool. Some of Kimberly's notable acting roles include The Revolutionists, The Piano Lesson, Colman Domingo's DOT, and her award-winning portrayal of Camae in Katori Hall's The Mountaintop. Kim can be found on Instagram @khaoss15 and NPX at: https://newplayexchange.org/users/58341/kimberly-ridgeway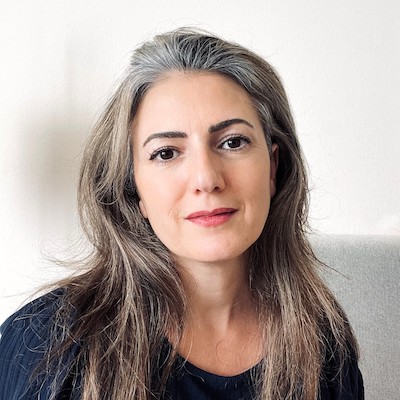 SAHAR ASSAF
Director of the World Premiere Commission The Tutor
Sahar Assaf (she/her) is a Lebanese theatre-maker and the Executive Artistic Director of Golden Thread Productions. Sahar's directing portfolio is eclectic, encompassing a wide range of theatrical styles, cultural influences, and social themes. Recently for Golden Thread, she directed "Drowning in Cairo" by Adam Ashraf Elsayigh and "Stamp Me" by Yussef El Guindi. For the Theater Initiative at the American University of Beirut, she directed works by Garcia-Lorca, Shakespeare, Wannous, Mahfouz, and others in addition to site-specific, devised, immersive, and documentary plays addressing pressing social and political issues. She has presented works in the Arab World, Europe, and the U.S. and has authored articles in Arab Stages, PAJ: A Journal of Performance and Art, and chapters in books, including "Theatre in the Middle East between Performance and Politics," edited by Babak Rahimi, Anthem Press, 2020, and "The Theatre of Sa'dallah Wannous," edited by Sonja Mejcher-Atassi and Robert Myers, Cambridge University Press, 2021. Sahar is a recipient of the Fulbright scholarship and holds an MA in Theatre Studies from Central Washington University and an MA in Sociology from the American University of Beirut. She is an alumna of Lincoln Center Theater Directors Lab in NYC (2014) and of Directors Lab North in Toronto (2017). She is a co-founder and the Artistic Director of Directors Lab Mediterranean. She is mostly proud of her role as a mother to Zad.
History
New Voices/New Work (originally New Play Development Lab) launched in 2002 and has commissioned and produced the following World Premieres:
2003 – Mysterious Skin by Prince Gomolvilas
2004 – Breakfast with Scot by Michael Downing
2005 – Crucifixion by Terrence McNally
2006 – The War At Home by Brad Erickson. Recently
2008 – It's Murder, Mary! by Andrew Black and Patricia Milton
2011 – Waiting for Giovanni by Jewelle Gomez, in collaboration with Harry Waters, Jr
2012 – Rights of Passage by Ed Decker & Robert Leone
2013 – Pansy by Evan Johnson, in collaboration with Ben Randle (as part of Emerging Artist Program)
2013 – American Dream by Brad Erickson
2017 – Leaving the Blues by Jewelle Gomez
2017 – Everything That's Beautiful by Elyzabeth Gregory Wilder
2017 – warplay by JC Lee
2017 – This Bitter Earth by Harrison David Rivers
2018 – Still at Risk by Tim Pinckney
2019 – This Side of Crazy by Del Shores
2020 – You'll Catch Flies by Ryan Fogarty
2020 – The Book of Mountains and Seas by Yilong Liu (suspended due to the COVID-19 after one preview performance on March 6, 2020)
2020 – The Law of Attraction by Patricia Milton
2021 – Interlude by Harrison David Rivers
2021 – Puppy Mind: Learning to Train Your Wandering Mind by Andrew Nance
2022 – PrEP Play, or Blue Parachute by Yilong Liu
2022 – A Picture of Two Boys by Nick Malakhow
2023 – Getting There by Dipika Guha
New Voices/New Work is supported in part by the William and Flora Hewlett Foundation, James Irvine Foundation, Grants for the Arts/San Francisco Hotel Tax Fund, and the generosity of our Individual Donors.
PLAYS FROM NCTC
The following plays commissioned and produced by NCTC are available for future productions.
For performance rights, please contact Ed Decker at ed@nctcsf.org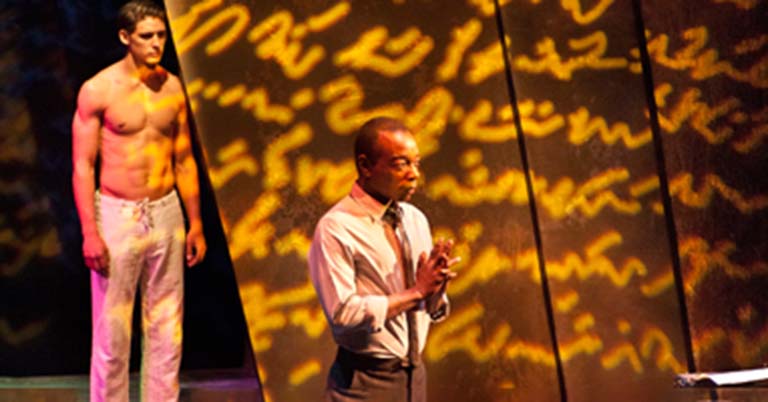 WAITING FOR GIOVANNI
by Jewelle Gomez, in collaboration with Harry Water's Jr.
World Premiere, 2011-2012 Season
The year is 1956. A young black writer from the stoops of Harlem has become a literary success. He has a social circle that praises him, a profession that he loves, and an eager line of lovers. While writing his second novel however, Jimmy encounters hostility not only from his community of activists and writers, but from his white editor William. William warns Jimmy that the novel, filled with sensual homosexual content, will end his hard earned career. While Jimmy struggles with his peers, he also finds himself in conflict with Giovanni, the embodiment of his desire. Based on a split second if indecision in the mind of world renown author James Baldwin, Waiting for Giovanni explores the emotional and professional dilemmas that loom over this fierce Harlem man – a man who insists on being true to love, to politics, and to the ghosts that live in his head.
RIGHTS OF PASSAGE
by Ed Decker & Robert Leone
World Premiere, 2012-2013 Season
Mixing traditional forms of storytelling, including puppetry, mask, and dance, with modern devices such as digital media, Rights of Passage deftly explores the struggle that each of us faces in establishing our identity and living in a way that is true to ourselves. At the center of the play is Wayan, a young, gay, Hindu man, who searches for a way to reconcile who he is with what his family and community expects of him. From the central story of Wayan's journey, the play reaches out to tell true stories of struggles and triumphs from around the world. Each story fits into the play's overall narrative, which is built around three key rites of passage in life – childhood, adolescence, and adulthood.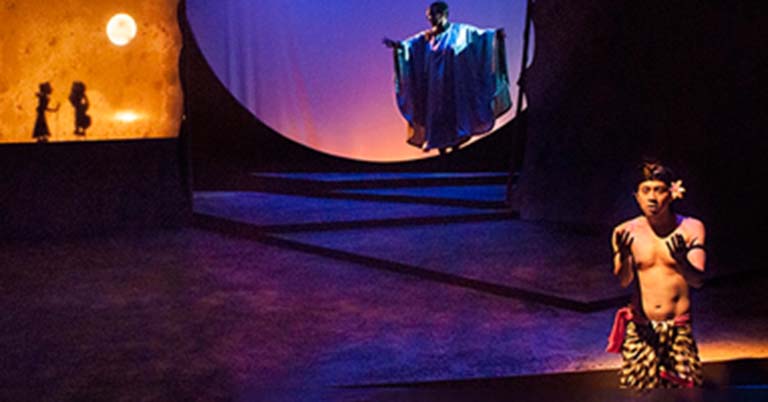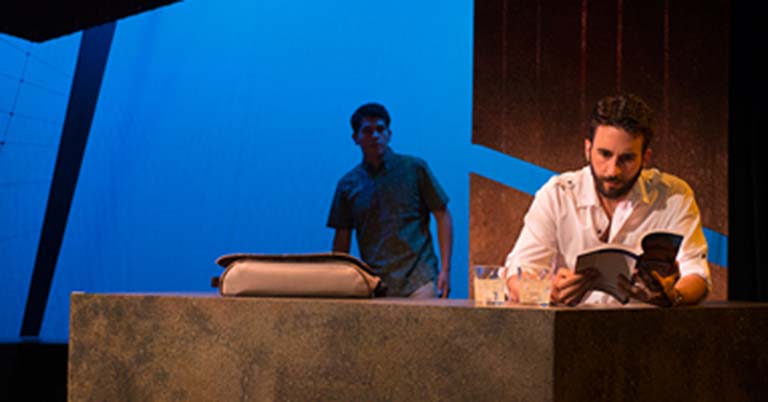 AMERICAN DREAM
by Brad Erickson
World Premiere, 2013-2014 Season
American Dream is set in San Diego, California and a Spanish colonial town deep in the heart of Mexico. The story straddles the border and explores the literal and spiritual frontiers the characters are challenged to cross. In the play, Tom, a recently divorced, and recently out, 40-something architect finds himself unexpectedly falling in love with his handsome Spanish teacher, Salvador, in the beautiful city of San Miguel, Mexico. Tom's ex-wife, Cara, bitterly clings to the life that has been torn away from her and vows to keep Tom from bringing Salvador home to San Diego. Tom enlists the help of Cara's beau, an influential Republican attorney, and that of an unlikely Minute Man, in an attempt to smuggle Salvador across the border.