Traffic and parking is unpredictable in Hayes Valley and Civic Center areas. We strong recommend taking public transportation or using a rideshare when possible.
PUBLIC TRANSPORTATION
NCTC is a short walk from the Civic Center BART and is right next to the Van Ness MUNI station. For alternate routes or more detail, visit mapquest.com, maps.google.com, or 511.org.
PARKING
Parking can be unpredictable so give yourself extra time to find a space. There are also several lots in the surrounding area as noted below: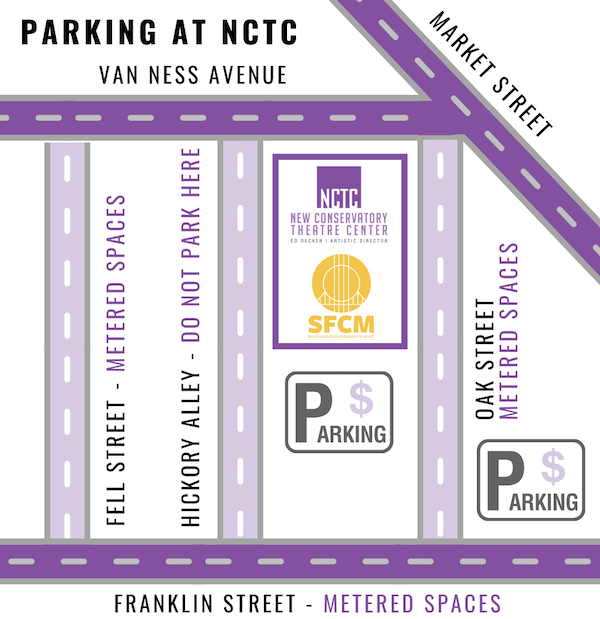 We recommend booking convenient and affordable parking in advance through SpotHero, the nation's leading parking reservation app.
To reserve your parking spot, visit the New Conservatory Theatre Center SpotHero Parking Page and book a spot with rates up to 50% off drive-up.
New to SpotHero? Click here to download the SpotHero app and use code NCTCSF for 10% off your first park.

DRIVING DIRECTIONS FROM THE BAY BRIDGE AND PENINSULA
Connect to 101 North toward Golden Gate Bridge. Exit 101 North/Mission Street. Turn slight right onto Mission Street/101 North. Follow 101 North as it veers left and becomes Van Ness Avenue. NCTC is at the corner of Van Ness and Oak Street.
DRIVING DIRECTIONS FROM THE GOLDEN GATE BRIDGE
After crossing the Golden Gate Bridge, take Lombard Street exit. Follow Lombard Street to Van Ness Avenue. Turn right on Van Ness and follow it to Oak Street. NCTC is at the corner of Van Ness and Oak Street.